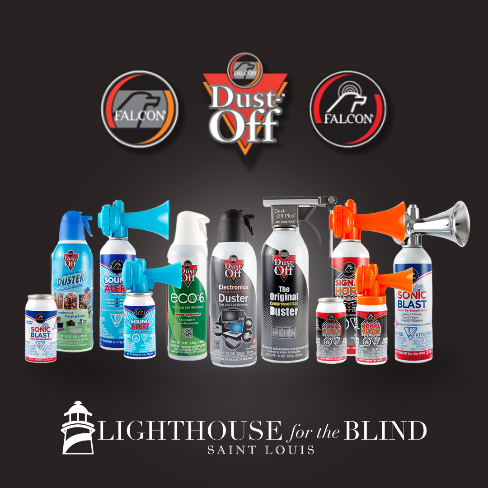 St. Louis-Based Non-Profit, Lighthouse for the Blind, Acquires Assets of Falcon Safety Products

Two Additional Berkeley Facilities Will Be Opened to Support the Acquisition and to Provide More Employment Opportunities for People Who Are Legally Blind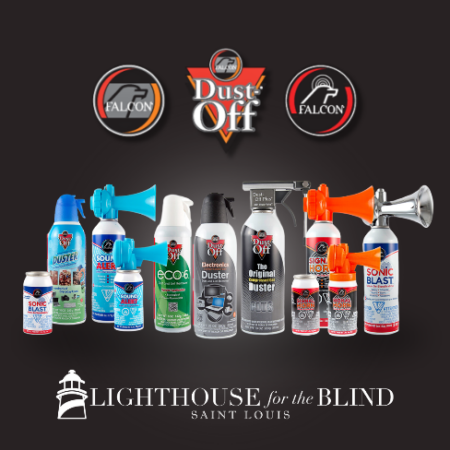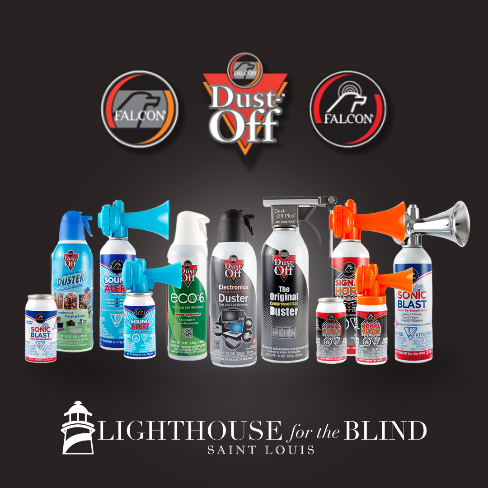 ST. LOUIS – October 11, 2023
– The Lighthouse for the Blind (LHB), a not-for-profit organization based in St. Louis that specializes in chemical manufacturing, filling, and packaging, has successfully acquired the assets of Falcon Safety Products located in Branchburg, New Jersey. As part of this acquisition, LHB plans to establish two new facilities in Berkeley, Missouri, with the aim of expanding employment opportunities for individuals who are legally blind.
Falcon Safety Products is a reputable manufacturer known for producing compressed-gas dusters and signal horns, including the popular Dust-Off® brand of consumer electronics cleaning accessories. They also have a strong presence in the marine and safety signal horns market. Their product line includes portable safety horns, as well as marine accessories such as Line-Master Mooring Snubbers, rigging tape, and marine screen cleaner. 
Eric Warnhoff, President and CEO of The Lighthouse for the Blind, expressed his satisfaction with the acquisition, stating, "The acquisition of Falcon Safety Products is a significant milestone for the Lighthouse. It will result in the creation of more than 30 job opportunities for visually impaired individuals in the St. Louis metropolitan area. This development marks a momentous occasion for the Lighthouse and further builds upon the foundation we laid in 1986 when we began manufacturing aerosols in Berkeley, MO."
The Lighthouse for the Blind in St. Louis has been dedicated to creating employment opportunities for individuals who are legally blind since 1933. Currently, the organization employs blind individuals at two manufacturing plants: a liquid and aerosol manufacturing plant, as well as a packaging and kitting facility. These facilities produce, fill, assemble, and package over 300 products for commercial and government customers. Falcon Safety Products will now be part of LHB's portfolio of commercial brands, including Quake Kare®, Tear Mender®, RapidFix®, and Badge Magic®. The sales of these products will contribute to their 'See the Future' Community Outreach Programs, which provide vital support and services for children and adults who are legally blind in Missouri.
Philip Lapin, President of Falcon, said, "We are happy to have sold to a U.S. based company with a charitable mission and manufacturing experience in our key categories. Members of our customer facing team will be aboard to help smooth the transition. We wish them well in their continuing mission to assist the visually impaired community."
For further information on Lighthouse for the Blind and their initiatives, please visit their official website at www.lhbindustries.com or contact Brittney Bettonville, Director of Marketing and Business Development at bbettonville@lhbindustries.com.
About About Lighthouse for the Blind:
Lighthouse for the Blind St. Louis (LHB) is a not-for-profit manufacturing organization with a dedicated social service mission. The mission of LHB, a 501(c)3 organization, is to assist individuals who are legally blind maintain dignity and independence through gainful employment, education and support services. The organization's two manufacturing, assembly, warehousing and distribution plants produce medical kits; catheters; aerosol and liquid paints; aerosol and liquid cleaners; adhesives; eco-friendly products; and others for business, consumer and government customers nationwide. Proceeds from the sale of products from Lighthouse for the Blind brands, including Quake Kare® (quakekare.com), Tear Mender® (tearmender.com), RapidFix® (rapidfix.com), Badge Magic® (badgemagic.com) and Cos Bond® (cos-bond.com), contribute towards 18 community outreach programs that support children who are blind.